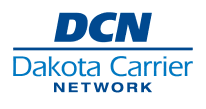 Dakota Carrier Network is a unique partnership between its 13 owner companies – independent rural broadband service providers from North Dakota. The partnership continues to grow as DCN works to help businesses, banks, hospitals and government entities trust their technology and focus on what matters most. 
While DCN only provides services to businesses and government entities, its 13 owner companies provide high-quality residential and business internet service throughout the areas they serve. Together, DCN and its owners serve customers in 384 communities, and with more than 65,000 miles of fiber optic cable in service North Dakotans can count on them for reliable, fast internet.
North Dakota has been honored by several publications and organizations as having one of the best data networks in the United States. We are proud to say that North Dakota has deployed our network to bring gigabit network technologies to every school district and government body in the state. 
Learn More